Transparent communication with all market participants is crucial for the PZU Group. With its extensive array of communication tools the company has provided all interested parties with equal access to transparent and complete information regarding the group's operations.

We are building PZU's value through active communication with capital market players. We are building trust and we care about good relations.
In order to meet the highest information governance requirements for public companies and fulfilling information needs of different groups of stakeholders, the Management Board of PZU undertakes various investor relations activities aimed at improving transparency of the company. Therefore, PZU has consistently applied "Principles for PZU to Conduct its Information Policy for Capital Market Participants".
Shareholding structure
As at 31 December 2015, the shareholders of PZU with significant share packages were as follows: the State Treasury of the Republic of Poland (34.4% of the share capital) and Aviva Otwarty Fundusz Emerytalny Aviva BZ WBK (5.7% of the share capital) PZU SHARE CAPITAL AND SHAREHOLDERS SECTION 10.6.
PZU shareholding structure – key investor groups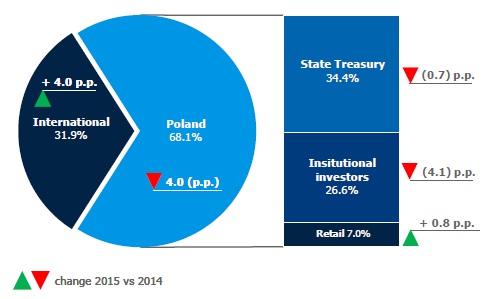 PZU shareholding structure in 2015 continued to undergo further geographical diversification. The foreign investors' share increased by 4.1 p.p. to 31.9%. Engagement of North American investors significantly grew – their share in shareholding nearly doubled to 9.9% year-on-year. The share of European investors (excluding Poland) slightly decreased by 0.3 p.p. and reached 17.9%. As for the structural changes, the higher activity of investors from the United Kingdom was strongly discernable. Their share in 2015 rose from 3.0% in 2014 to 8.1% in 2015. At the same time, the result of the conducted survey pointed to individual shareholding outside Poland, whose share amounted to 1.1% at the end of 2015.
The share of institutional investors from Poland dropped in 2015 by 4.4 p.p. to 26.6%, which was related to a higher supply of PZU shares, mainly from the Polish fund management companies (TFI). Simultaneously, the share of individual investors from Poland increased to 7%.
Communication with capital market participants
The financial performance of PZU Group (for 2014, Q1 2015, 1H 2015 and Q3 2015) was presented and discussed by the Management Board of PZU during meetings with capital market analysts (all also broadcast live on the Internet). PZU organized also a live streaming of the meeting held on 28 January 2015 and devoted to the presentation of the PZU 3.0 Strategy for the years 2015-2020, and the conference held on 1 June 2015 in connection with signing an agreement for purchase of Alior Bank shares.
2015 was another year to present PZU annual report online (http://annualreport2014.pzu.pl/), along with the most important events, achievements and plans. The report was awarded the highest distinction for the best annual online report in a prestigious competition held by the Polish Institute of Accounting and Taxes.
Geographical structure of PZU shareholding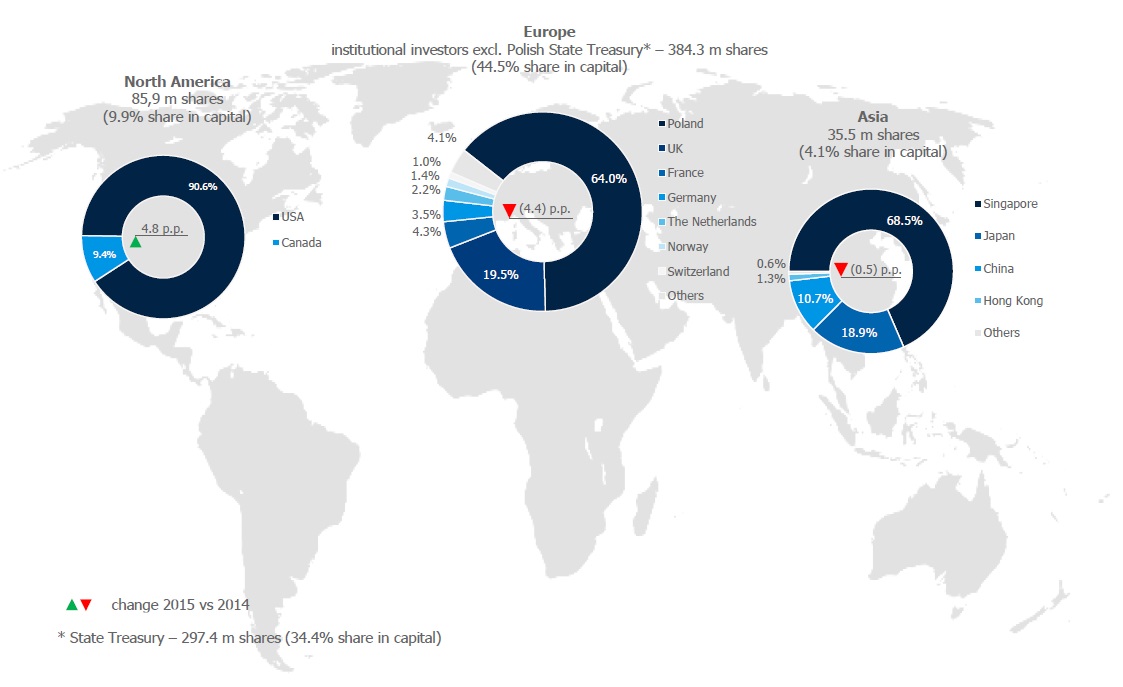 IR activities aimed at institutional investors
In 2015, representatives of PZU participated in:
5 non-deal road shows in Boston, New York (3x), Frankfurt (1x), Hong Kong and Singapore (1x);
13 financial conferences held abroad with global institutional investors;
5 conferences for institutional investors in Warsaw;
a number of group, one-on-one and group meetings, as well as teleconferences with investors and stock portfolio managers held in the company's office.
In 2015, PZU participated in 234 meetings (a 25.8% increase year-on-year) with nearly 384 institutional investors and more than 130 meetings and teleconferences with analysts issuing recommendations concerning PZU shares.
RI activities aimed at individual investors
In 2015, PZU continued also communication activities addressed to the large group of individual investors. With them in mind, we:

2015 marked the continuation of communication efforts targeting retail investors. With them in mind PZU representatives participated in 2 conferences organized by an association of individual investors (WallStreet XIX and Professional Investor IX), they held 4 online chats and they participated in a program entitled "10 out of 10 – communicate effectively".
participated in 2 conferences for individual investors organized in Poland by Individual Investors' Association: 19th Wall Street Conference in Karpacz – the largest meeting of individual investors in Central and Eastern Europe and in the 9th edition of Professional Investor Conference 2015 in Zakopane;
organized 4 chats with individual investors, in which the Member of the Management Board of PZU who is in charge of Finance Division in PZU Group also participated, after each publication of the results, and 1 chat after announcement of the PZU 3.0 Strategy;
participate in the "10 na 10 – komunikuj się skutecznie" [Ten out of Ten: Effective Communication] program aimed at creating high communication standards for quoted companies to reach individual investors.
Investment centers visited in 2015 (number of visits)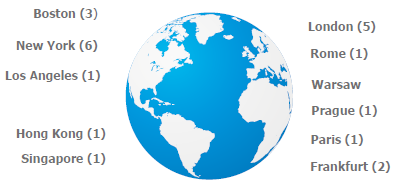 Awards and prizes for IR activities
Activities of PZU regarding investor relations are highly appreciated both by investors, analysts and media. In 2015, PZU received the following awards and prizes in this area:
Eight awards for the best investors relations in Poland and Central and Eastern Europe in Extel 2015 survey:

CEOs best for Investor Relations (Central & Eastern Europe) - Andrzej Klesyk #1
CEOs best for Investor Relations (Poland) - Andrzej Klesyk #1
CFOs best for Investor Relations (Central & Eastern Europe) - Przemysław Dąbrowski #1
CFOs best for Investor Relations (Poland) - Przemysław Dąbrowski #1
Best IR Professionals (Central & Eastern Europe) - Piotr Wiśniewski #1
Best IR Professionals (Poland) - Piotr Wiśniewski #1
Corporates best for Investor Relations (Central & Eastern Europe) – PZU #1
Corporates best for Investor Relations (Poland) – PZU #1
The Extel survey included 16 thousand people from investment environment from 75 countries. The representatives of brokerage houses and investment analysts were rated by asset managers and IR department staff. 5.5 thousand individuals and over 1.5 thousand companies were subject to the survey in the field of investors relations. All data used for drafting the ranking were subject to an external audit which ensures their credibility and correctness.
The first place for the best annual report and the best online annual report for 2014, in the category of Banks and Financial Institutions in the competition The Best Annual Report organized by IRIP. Management Report for 2014 was also awarded. In the past four years, PZU has twice received the first place in this contest, being also on the podium in the other two editions.
Second place in the competition for best investor relations according to institutional investors – investor relation survey in WIG 30 companies held by Gazeta Giełdy "Parkiet" (Stock Exchange Newspapper) and Chamber of Brokerage Houses.
Investor-Friendly Company certificate – awarded by the Individual Investors Association to the companies that maintain high reliability of its information policy and protect the rights of investors.
IR aims for 2016
Main objectives of investor relations in 2016:
establishing good relations between the Management Board of PZU and investors;
ensuring understanding and approval for the PZU 3.0 strategy among the investors and analysts;
providing a broad market for PZU shares and bonds– by continuing pro-investors activities aiming to create a diversified (geographically, numerically and in terms of their profiles) group of investors who know the company and are well-informed;
wide coverage for PZU shares by analysts of investment banks and brokerages (sell-side) and ensuring the fair valuation of PZU shares by providing analysts with high- quality information on the activities of PZU, industry trends, factors affecting the financial results and feedback on the analysis of the issued recommendations;
creating standards of investor relations for other quoted companies to follow;
Providing the Management Board of PZU with regular feedback on perception of PZU among capital market participants and wide knowledge on existing and potential shareholders of the company;
monitoring investors' sentiment towards PZU shares and changes in shareholding structure in order to apply the most adequate IR actions and tools and asses effectiveness of IR plans.